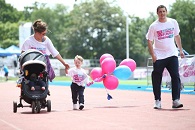 June 2016 - Maccabi GB Community Fun Run
On Sunday 19th June, 2,500 people participated in the Maccabi Community fun run and ran for 69 charities and schools.

Some of the runners were only a few weeks old, crossing the finish line in prams with their parents and grandparents. Maccabi GB head of sport & community Partnerships Neil Taylor, who organised the event, said: "It has been an incredible and successful day. "The numbers obviously speak for themselves. More runners than ever, more spectators than ever and more fantastic causes to fundraise for.

"The event brings together all kinds of Jewish people and all these members of the community have come together for a greater cause, with no concern for anything other than to raise funds and get a little active as well."

Well done to those people who participated in the community Fun Run and helped raise over £1,500 for the Reuth Medical and Rehabilitation Centre in Tel Aviv.
< back to main page