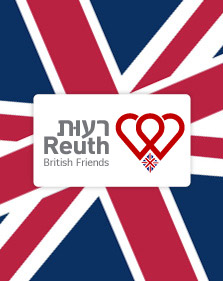 About the British Friends of Reuth
The British Friends of Reuth, is a registered UK charity and has been active for over seven decades in assisting Reuth's work in Israel in the field of healthcare and social welfare.
Our focus is on sponsoring the Quality of Life Therapies at Reuth Rehabilitation Hospital, Tel Aviv. The therapies are based on one of the key principles of Reuth, that every person deserves to live life with dignity and respect. They include; therapeutic gardening, music, art, drama and animal therapy, therapeutic outings and activities in the community.
The dynamic leadership of the British Friends of Reuth helps us reach our goals in support of Reuth along with our trustees and committees.
WHO IS REUTH:
Reuth Rebilitation Hospital is a leading rehabilitation centre, based on human compassion and professional excellence. The hospital's staff is committed to the highest quality of care for our patients and their families, initiative and innovation, research and academic instruction, and collaboration with medical and welfare services in the community.
WHAT SERVICES DOES IT PROVIDE? The REUTH Rehabilitation Hospital is a 350-bed state-of-the-art hospital with orthopedic, head injury, respiratory and neurological departments. Inpatient services include: physiotherapy, occupational therapy, speech therapy, rehabilitation, physiology and nutrition, and complex nursing care for children and adults. Outpatient clinics include: Day Rehabilitation Centre, Chronic Pain clinic, Sexual Rehabilitation clinic, AGAM Institute for Eating Disorders and Rehabilitation Complementary Therapy. Social club for stroke victim. Senior homes with 24/7 access to medical assistance. Community Centre for senior citizens. Subsidised housing for Holocaust survivors
WHO DOES IT SERVE? Individuals of all ages and religions, including wounded soldiers and terrorist victims. Long term ventilator patients. Individuals impaired due to neurological illnesses. Stroke patients
Charity No 1126124. Company Limited by Guarantee. No 06615331. Registered in England and Wales, registered Office: 75 Maygrove Road, London, NW6 2EG